The Mercury Marine Piston line from Diamond Pistons takes the guesswork out of servicing or building up your Mercury Marine engine and is available for a plethora of engine platforms.
Diamond's new line of Mercury Marine replacement pistons takes the guesswork out of servicing or building up your Mercury Marine engine. Offered in both 4032 and 2618 forged aluminum, the pistons are direct replacements for each series of Mercury Racing engine.
Features
Forged aluminum for exceptional strength
3D Milling on piston crowns for exacting finish
Direct replacement for factory piston
Moly skirt coated for reduced friction
Premium ring package included
4032 or 2618 materials depending on application
"After taking numerous tech calls all day long, we decided to make it super simple with our Mercury Racing line," said JJ Zimmerman of Diamond Pistons. "These pistons were getting harder and harder to find. We're making it super simple to find the piston you need."
The pistons bring Diamond's standard of durability and craftsmanship to the table and also offers a moly skirt coating and a specially designed ring pack.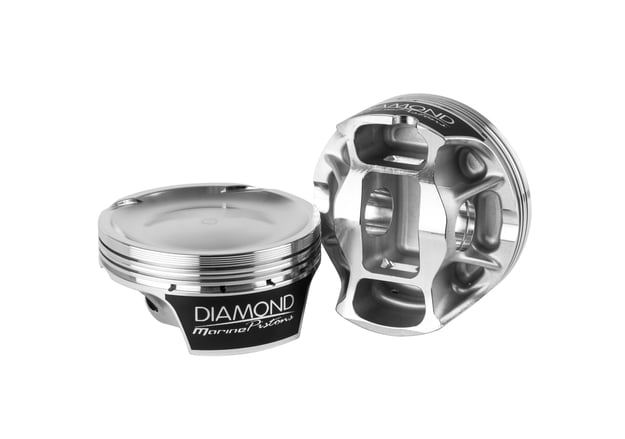 "We have our own exclusive ring pack that we spent a lot of time developing and will be offering with these pistons," said Zimmerman. "It's called the Black Diamond Ring Stack and it will be a hardened, ductile steel, 1.5mm/1.5mm/3.00mm or 4.0mm setup."
Diamond has dedicated forgings for each Mercury engine series in 4032 alloy for naturally aspirated engines and 2618 alloy for turbo and supercharged motors. All pistons will include Trend wrist pins and precision under-crown milling.
Whether they're naturally aspirated, turbocharged or supercharged, we have them all and they're going to be in-stock, ready-to-rock January 1st," said Zimmerman.
Mercury Marine Applications
4L 454ci MAG/MPI Series
1L 496 Magnum Series
502ci MAG/MPI, 500EFI & 525EFI Series
565EFI Series
575 SCI Series
600SCI, 662SCI, & 700SCI Series
850SCI, 1025SCI, 1075SCI, & 1200SCI Series
1100 & 1350 QC4V Series